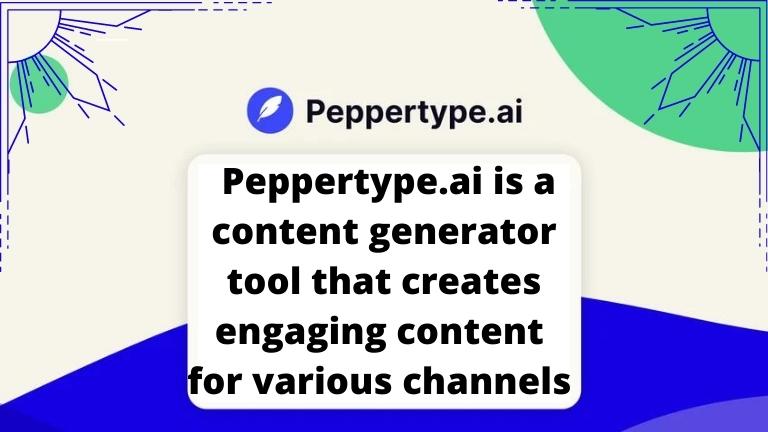 Introduction:
It's an open secret that content marketing is the best way to promote your business online. In fact, it is widely considered one of the most effective ways to reach new customers and keep existing ones interested in your product. But writing blog posts can take up a lot of time–and if you're running a small business, you may be short on employees. That's where Generate Unique Content comes to save your time.
What is papertype.ai?
Peppertype.ai is a content generator tool that creates engaging content for various channels in just a second.
This tool can create fresh, unique, and high-quality content without doing all the research yourself that is the best for saving your time.
Get your access with lifetime deals
The Peppertype.ai Advantage:
Blog related Advantage:
Blog Ideas and Topics
Blog Introduction (paragraph)
Blog outline (bullet points)
Blog Conclusion (paragraph)
Blog main content (paragraph)
SEO- Part :
SEO-optimised Meta Title
SEO-optimised Meta Description
Social site- Part:
Social media post caption
Facebook Ad Primary Text
Facebook Ad Copies
Youtube Video Topic Ideas
Youtube Video Descriptions
Amazon product:
Amazon Product Title
Amazon Product Feature
Amazon Product Description
Others Extra Facilities:
Engaging Questions
Informative Quara Answers
Website Headline copy
Website sub-headline copy
Completing Bullet Points for email
Brand and product description
E-commerce product description
AIDA copywriting
BAB copywriting
PAS copywriting
Feature to Benefit copywriting
Content Expander
Content Rewriter
Product Review Generator
Customer Revire Response
First to third person
Adding one content at time
How Peppertype.ai Can Help You?
You are struggling to create consistent quality content for your marketing team?.
No worries.
You can choose from over 30 particular content types for all your copywriting and content needs.
Let us check out Google ads with Generate Unique Content. As an example.
All you demand to do is enter your product name, product description, and a few optional Advanced details, like keywords audience and occasion.
Once you click generate pepper, type dot AI starts generating many excellent copy options for you when you look at all your newly generated options.
You can always use the annotations feature to highlight all your
How Peppertype.ai Works?
Put words every single result you get is filtered through pepper type. AI is an advanced AI system that takes grammar and relevancy into account so that, you know, you are getting quality content.
You can easily download everything into a CSV to start using immediately.
Plus, pepper-type.AI is excellent for teams because all the content you generate can be stored in one place for everyone to share their input.
However, here is where pepper type got AI; it shines. Let us say you need to create a blog with Generate Unique Content. You go through the same process, and pepper typed on a, I will then generate a blog.
Great moment for you, you can then choose the topic you like, save it, and then create the blog outline intro, conclusion, or just general ideas from that topic.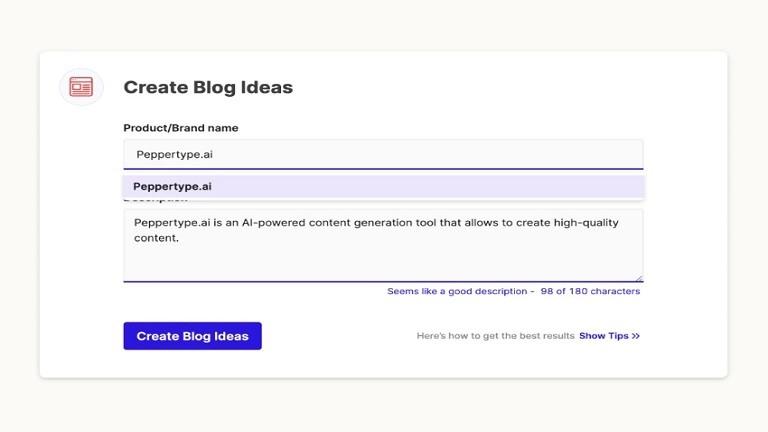 Plans and Features:
Lifetime access to Peppertype.ai Starter (Tier 1) or Growth (Tier 2+) Plans
All future Starter (Tier 1) or Growth (Tier 2+) Plan updates
No codes, no stacking—just choose the plan that's right for you
You must activate your license within 60 days of purchase
Ability to upgrade or downgrade between 3 license tiers
Previous AppSumo customers who purchased Peppertype.ai can upgrade their license to increase their feature limits
60-day money-back guarantee, no matter the reason
Features Included in All Plans :
View complete history
Analytics
Google Ads headlines and descriptions
Blog ideas (titles)
Facebook Ads
Product descriptions
Instagram captions
Website headlines and copy
Website SEO meta descriptions
Website sub-headlines
Tweet ideas
One-liner tweets
Value proposition
Product review generator
YouTube video ideas (titles)
Feature to benefit
Generate with keywords
Long-form content generation: Before-After-Bridge copywriting, YouTube video descriptions, blog content, and more
Pricing:
Starter Plan [$25.00 per month]
50,000 words per seat
Add team members
Advanced parameters
All 20+ content types & early access to new ones
Request us a content type
Active customer support
Growth Plan [$165 per month]
50,000 words per seat
Add team members
Advanced parameters
All 20+ content types & early access to new ones
Request us a content type
Active customer support
Collaborate and share results
Access Control
Download results
Enterprise Plan[contact us for details]
Unlimited Content Generation
Customised AI model trained just for you.
Brand voice and other parameters add on
Custom widget and Integration
Bulk content generation
Human quality check
Exclusive check for plagiarism and grammar
Conclusion:
A blog post is a great way to generate unique content leads for your service business, but there are many ways to write one. Use these strategies to ensure that you're creating high-quality content that will keep visitors engaged and interested in what you have to offer