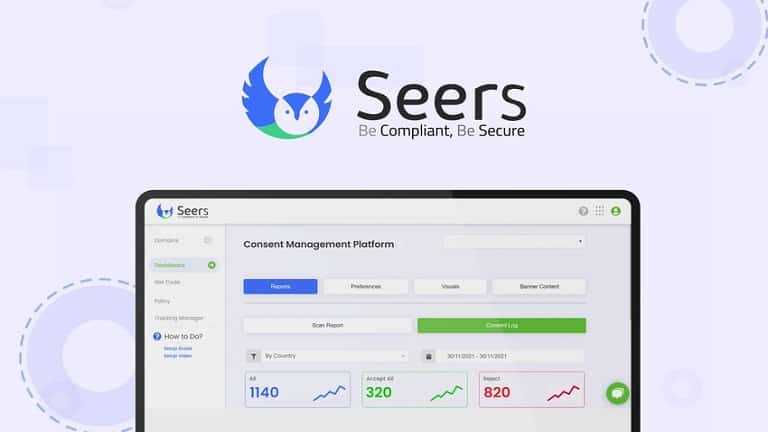 ---
Introduction:
At the cyber time, protection and security are burning issues for every marketer. Most of the time, black hat hackers search for damage to your site or break down your site. Stealing your information is a complicated matter for every prospect. Now I am going to here taliking about seers the best Data privacy softwer.
---
How can seers help you?
Seers help you gain control over your data. As a result you can decide who can use it. How they can use it, and when they can use it. With Seers, you have complete visbility of where your data is used and by whom.
---
---
The best user of Seers:
If you are owner any kind of website you can use for your trffice. Seers ensure you the best result becouse it is one of the best The best Data privacy softwer.
App developer
Looking to simplify
Consent management
---
Some instants key features:
Consent Management:
Auto-blocking cookies and other trackers
Install in three minutes.
Regular sence and analytic report
IAB 2.0 TCF and Google Consent Mode
Webhook and Consent Integrations.
Assessments and Certifications:
15 modules assessment.
Find weaknesses and get certification.
GDRP compliance certificatioin.
Compliance complete checklist.
Advisors:
120 experts to choose from.
Cost effective, efficient and easy.
Highly qualified and experienced experts.
Excelent GDRP tools and guidance.
Free 30-Minutes Consultation.
Documentation and policies:
Crafted by UK Expert Lawyers
Easy to implement and fully customiseble
Choose the policy you need
100+ policies – Data Privacy, HR, Corporate etc
Pay one off for all policies.
Privacy ops:
Customiseable forms for access request
Full process orchestration/ workflow
Collect, review and manage SAR activities
Central control panel
Multi User and department management
---
Simple Pricing
---
Frequently Asked Questions (FAQ)
Q: I purchased a seers Cookie Consent subscription. What's next
Congratulation! you are one step closer to cookie compliance. You will receive the following notifications via email

Q: What's the difference between the Free Edition and other plans?
The Free edition of Seers Cookie Consent includes a basic level of consent with 100 subpages.
Q: How long does it take to get started?
Most users easily implement the solution on their website within minutes.
If you run into any questions or need help, you can always contact us.
Q: Can I change plans later?
You can upgrade subscriptions at any time
---
Conclusion:
If you need a privacy solution that is easy to install, configure, and maintain, then look no further than our flagship product. You get a free license for the next 12 months by ordering today.